Adventure: "Deer breeding songs"
Duration 3,5 hour
Minimum: 4 people
Price: 53 euro/person (including dinner)
Dates: from August 25 till September 30 each year
Time: from 20.30 till 24.00 (midnight)
AGE RANGE: 4+ years old
Children fee is :4-9 years old 20 euro/child
9+ years old – full price
Language: English, Hungarian, Russian, Dutch, German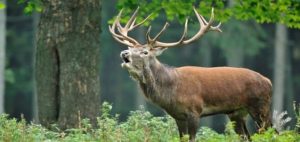 Description: As journalist and TV producer I made several reportages for radio and TV about wildlife in Hungary. One film was about the fence which Hungary built in 2015 on its border with Serbia and Croatia – to keep away thousands of migrants. But this fence also kept away wild animals and badly damaged the stocks of deer and other animal species on both sides of the border.
When I first heard the deer's breeding songs, I was shocked, scared and amazed … It was so powerful and passionate just next to me … This experience I want to share with my guests.
What we shall do:
We meet on the covered terrace in museum-like peasant house in the village, which "get lost" between the forests and valleys full with wild life.
On the cars we go on "safari" to spot the night life of animals. Here we start to listen the deer breeding songs.
After "safari" we tell stories about DEER IN A RUT – which means deer in its breeding period. We tell what is so special for deer in this time of the year, its behavior and everything related to rutting. Visual material will be presented.
In the meantime, guests can listen to the deer breeding songs, very close but in a safe place. We have a little observation tower to climb for more effect.
While listening to the stories and deer "concert" we set a fire and invite guests to make food on the open fire. It will be an authentic Hungarian dinner, like shepherds did centuries long: slow and simple. Next to it all alcohol and non-alcohol drinks are available.
When the moon rise and skies are clean, we can stare the stars and listen how deer sex songs are flying to the skies …
<head><script data-ad-client="ca-pub-5902987690122267″ async src="https://pagead2.googlesyndication.com/pagead/js/adsbygoogle.js"></script></head>