Class: "Sugar-Free cakes, East Europe tastes"
Duration 2,5 hours
Minimum: 4 people
Price: 55 euro/person (including bakeries)
Dates: from April 15 till October 15 each year
Time: from 14.30 till 17.00
CHILDREN: welcome (1 child up to 6 years old/adult FREE)
Language: English, Hungarian, Russian, Dutch, German
The program is available only for guests, who booked the room in Farmotel Stefania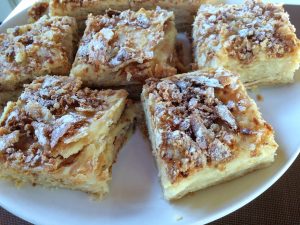 Description: We have a passion for healthy food. But unfortunately, as many people, we love sweets: cakes in all varieties. Our passion for sweets and concern of its impact on our health made us search for the solution: how to stay healthy and at the same time enjoy cakes and other sweets.
Through the years we developed a selection of SUGAR FREE CAKES and DESSERTS recipes with East European touch. These recipes and baking experiences we would love to share with people in Farmotel Stefania.
Here we shall show traditional Hungarian baking oven with two fireplaces, where on open fire we shall bake our SUGAR FREE cakes! And while preparations we can discuss: why we love sweets, what are our favorites, why sweets make us feel happy. Also, about negative impact of sugar on our health and teeth. And how to enjoy cakes without negative effects.
Finally, together we shall make SUGAR FREE CAKES and DESSERTS, using several recipes from our collection. After all we shall eat what we baked with cup of tea, milk or best local wine from our wine cellar!